Getselfhelp.co.uk Cards are a downloadable pack of 52 cards to help you learn and remember self help techniques - for you, your family and your clients.


The

'

cards

'

are downloadable in PDF format - 4 'cards' to an A4 sheet (or alter your print settings for other sizes). You can start using your cards right now:



Purchase for £4


Download the file to your computer


Print the 14 pages onto paper or card (see Print Options below)


Cut out the cards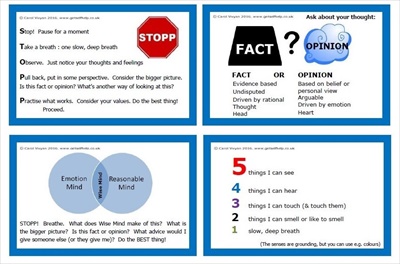 There are 52 completed

cards of self help techniques, plus one tips card and 3 blank cards making 56 cards altogether.

Scroll down for Inspirational Quotes card pack and Values card pack, or buy all 3 for £7.

PURCHASE NOW Getselfhelp Card Pack for £4

Tips for using the cards:
Shuffle the cards and pick one each morning and commit to using it today
Talk about the card and what it means if using with someone else
Keep a pack to look through when feeling upset
Use them for yourself, your children or your clients
Bookmark this webpage and click on the links below to find out more
Add your own words or pictures to the 3 blank cards


The self help strategies with corresponding webpages are linked below:


54321 (Grounding techniques)
ABCDE: Responding to Thoughts
Accept, Change or Let go?
ACE activity
ACT: Accept, Choose, Take Action
Affirmations
Apple
Assert Yourself
BACES
Battery
Beach Ball
Be kind to yourself
Breathe
Clocking off
Colour breathing
Court Case
Crystal Ball
Don't believe everything you think!
DRIFT
Fact or Opinion
Flexible Thinking
Goals
Helicopter View
Mindful walking
Mountain
Music
Notice the Positives
NOW
Peaceful Place
Positive Steps to Wellbeing
Purpose and Meaning
Sleep healthily
Solve Problems
STOPP
Values (including Values card pack)
Visualise
Wise Mind


The cards are copyrighted and must not be altered.


All the 'cards' available on this page are delivered as PDF downloads - they are not posted to you through the postal system.


BUY YOUR PACK OF CARDS NOW and start using them today!
PURCHASE NOW

INSPIRATIONAL QUOTES CARD PACK

52 inspirational and motivation quotes

4 quotes per A4 sheet

Print onto card or paper and cut into 52

Additional tips card and 3 blank cards

£3

Purchase both Getselfhelp Card Pack and Inspirational Quote Card Pack and get Values Card Pack FREE
PURCHASE NOW £7 for all 3 card packs
Getselfhelp Values Cards
Use the Getselfhelp Values Cards to help identify your Values. A Value is a chosen life direction – something that guides us throughout our life. A Value is what we want to be remembered for. Our passion. Our Values give us meaning and purpose. Once we have identified what our Values are, we can take committed action to set goals and work towards those Values, helping us lead a more purposeful and enriching life.
There are 52 word cards and 4 blank cards for you to add your own words, with 8 "cards" to each A4 sheet.
Purchase the cards.

Download them to your computer.

Print them onto (ideally) card, or paper,

Cut them them into individual cards.
Use the Values Cards for yourself or with others.

PURCHASE NOW £1.50

Click on printer icon and use standard settings to print 4 large cards to each A4 sheet.

Change your print settings to print in other sizes. In Windows 10 for example, click on the printer icon, then select "custom scale". Set at 65% to print to standard credit card size. Choose Portrait format. Choose to print Pages 1-7. Then print. Now re-insert the pages into your printer (ensure the right way up!) and print pages 8-14 with the same settings. You now have 8 cards to each A4 sheet.

The USA uses "Letter" size paper rather than A4. When printing the cards after purchase, select "print to fit" and check the print preview screen, or click on print and choose "Page setup" at the bottom of the print dialogue window. Then choose your desired paper size (e.g. Letter 8 1/2 x 11in) from the paper size drop down menu.

© Carol Vivyan 2016. Getselfhelp.co.uk

Please respect the copyright. After purchase, the Getselfhelp card pack can be used solely by you, for yourself, your family and your personal individual clients. The Getselfhelp card pack must NOT be otherwise shared in any way, nor used commercially.

Buy more Getselfhelp document packs here

Buy Getselfhelp mp3 files here